Johor Pengerang Integrated
Petroleum Complex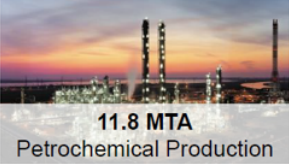 Refinery and Petrochemical Integrated Development (RAPID)
RAPID is Petronas' largest investment in Malaysia, located in Pengerang, Johor and forms part of Johor state's ambitious masterplan of Pengerang Integrated Petroleum Complex (PIPC).

The RAPID project is designed to produce premium differentiated petrochemicals; meeting domestic demand for petroleum products and the Malaysian government's future legislative requirements on the implementation of Euro 5.

With an investment of USD27 billion, RAPID supports the Government's overall Economic Transformation Programme (ETP) and will position Malaysia to capitalize on the growing need for energy and commodity petrochemical products in Asia in the next 20 years. This will spur the growth of Malaysia's Oil and Gas downstream sector, pushing Malaysia into a new frontier of technology and economic development.
RAPID's refinery is poised for start-up in 2019 and will be supported by the following associated facilities:
Raw Water Supply Project
Power Generation Plant
Air Separation Unit
LNG Regasification Plant
Dedicated Storage Terminals
Utilities and Facilities
FIND OUT MORE ABOUT RAPID