Johor Pengerang Integrated
Petroleum Complex
Pengerang Integrated Petroleum Complex (PIPC) is a project development in Pengerang, Kota Tinggi District, Johor, Malaysia. Strategically located at the south-eastern tip of Peninsular Malaysia, it offers access to existing major international shipping lanes. The PIPC megaproject spans 20,000 acres and will house oil refineries, naphtha crackers, petrochemical plants as well as a liquefied natural gas (LNG) import terminals and a regasification plant upon completion. PIPC is estimated to generate RM18.3 billion Gross National Income (GNI) by the year 2020 and help to create 8,600 high-income and high-skilled jobs.

To ensure that various oil and gas projects within PIPC are managed and administered efficiently, a new dedicated Federal Government agency - Johor Petroleum Development Corporation (JPDC), a subsidiary of the Malaysian Petroleum Resources Corporation (MPRC), was established.

JPDC's main role is to coordinate the development of PIPC as well act as a one-stop information centre to assist investors, oil and gas players and the local community.

JPDC's Board of Directors is well represented by both the Malaysian Federal Government and Johor State Government to align the government's efforts in making PIPC a success. One of the crucial roles for the government is to put in infrastructure and utilities in Pengerang, Kota Tinggi District to cater for the future expansion needs of PIPC. These include construction of new roads, installing a comprehensive network of power, telecommunications and water supplies, upgrading roads to highways to facilitate movements of goods and services and centralised management of industrial waste products from the complex.

PIPC is a national project of strategic importance, targeted to achieve the following: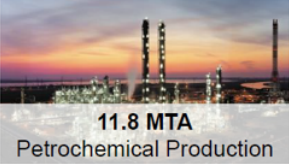 Refinery and Petrochemical Integrated Development (RAPID)
RAPID is Petronas' largest investment in Malaysia, located in Pengerang, Johor and forms part of Johor state's ambitious masterplan of Pengerang Integrated Petroleum Complex (PIPC).


The RAPID project is designed to produce premium differentiated petrochemicals; meeting domestic demand for petroleum products and the Malaysian government's future legislative requirements on the implementation of Euro 5.​


With an investment of USD27 billion, RAPID supports the Government's overall Economic Transformation Programme (ETP) and will position Malaysia to capitalize on the growing need for energy and commodity petrochemical products in Asia in the next 20 years. This will spur the growth of Malaysia's Oil and Gas downstream sector, pushing Malaysia into a new frontier of technology and economic development.
RAPID's refinery is poised for start-up in 2019 and will be supported by the following associated facilities:
Raw Water Supply Project
Power Generation Plant
Air Separation Unit
LNG Regasification Plant
Dedicated Storage Terminals
Utilities and Facilities
FIND OUT MORE ABOUT RAPID